Photo by Kwan Suh (@wagkwan)
Black Lives Matter

June 2020

Following the death of George Floyd the world finally started waking up to the massive injustice and mistreatment of black people that is rooted within our history. People all over the world took to the streets amid a pandemic to show their support of black people and willingness to stand for their rights and global equality.

As a graphic designer I feel it is my responsibility to have a visual presence in the movement. I created a large scale stencil of the BLM fist and used a recycled fabric to create a bold statement on the front of my Bristol home.

I also created a sign and flag which I took with me to the protest as well as a smaller scale stencil. Me and my friend Kwan sprayed this symbol of power to the people all over the city. We wanted to ensure this symbol and it's message doesn't fade away. That it will continue to remind people of what we must stand for.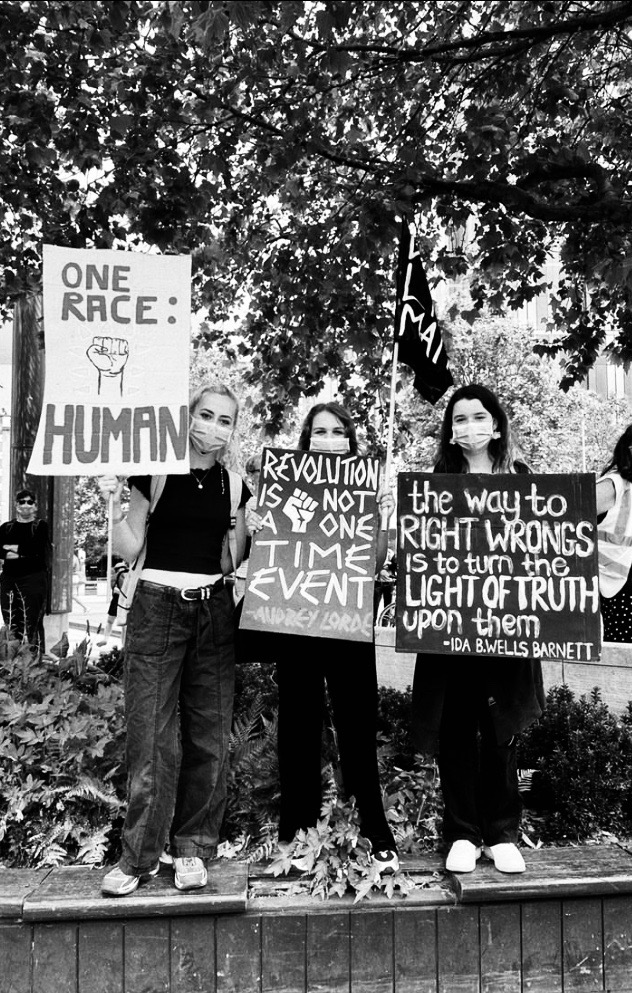 Public Announcement
Collaboration with Oscar Jackson, Cat Jarrat and Holly Fisher

Part of a megagraphics project based around the housing crisis. As a response to this issue we created a series of outcomes in a similar style to government announcements. Our outcomes were based around the monstrous government budget for military equipment, artillery and guns. Highlighting the lack of funding they are providing for people struggling due to the
housing crisis.
This outcome was an aluminium sign which was put up in an area of Bristol filled with government buildings. It featured a basic government style design and their logo, re-created using missiles and bullets.
Keep Smiling
October 2019 - June 2020

This was an outcome I initially created as a response to my final major project based around the topic of Human Connection. It was created with the intention of making passers by smile. Smiling at another person can be the most simple but common and universal way of connecting with each other.

As the Covid-19 pandemic took over the world this outcome became a permanent piece on the front of my house. Lockdown had struck and people's mental health was deteriorating. I wanted this humorous piece to now not only initiate a smile but to inspire others to decorate their houses in imaginative ways. I was successful as I noticed others around me using resources they found around their house to create beatuful messages of hope. It was shared by strangers across social media and brought many smiles to faces of strangers.

This piece was also featured in an article by greenhat.studio
Daigo 2 in The Gambia
January 2020

In January 2020 I had the great opportunity of visiting the Gambia as part of a volunteer project with Daughters of Africa and UWE. The project me and my team created focused on sharing creative expresssion skills with the members Abuko Youth Association (AYA) 30 incredible individuals aged between 8 and 18. The aim was to provide AYA with tools for sharing their voice on issues they care about within their community. We combined our knowledge of creative writing, performance and graphic design to create workshops that allowed AYA to experiment with different mediums some of which they have never explored before.

The two week project consisted of various workshops, games, a field trip to Mama Africa and concluded with an exhibition within the community of all the work the group had created during this period.

As a graphic designer I focused on two major aspects of the field. I wanted to provide the group with some knowledge on mediums that can be very powerful in convaying a message efficiently but could also be used within industry. This for me is logo design and poster design. I created workshops that intruduced ideas of typography, layout, colour and shape. Following the workshops each member of AYA came up with their own design for the AYA logo which was then shared with the group and everyone voted for their favourites. The top 3 were then taken aside and collaborated on creatign a digital version of their ideas with my assistance. Our poster workshops lead to every member of AYA creating a poster advertising the exhibition we were going to present in the community that they could share with their family and friends, inviting them to attend.

The final exhibition was a truly rewarding moment that gave us all an opportunity to reflect on the hard two weeks of work and share it with the local community, friends and family. It included art work, poem's, articles, songs, posters, performances and the AYA tree. AYA spoke a wide range of issues that they care about which inlcuded smoking, education, young pregnancy and the environment. It took some time for AYA to truly trust us in sharing their thoughs on these topics and for this I feel extremely humbled. Our celebration concluded with an awards ceremony where we handed out certificated for all the memebers and
t-shirts with the brand new AYA logo designed by them. Then we sang, danced, played our final name game that the kids had taught us and cried a little as we said our goodbyes. Thank you for your smiles, your bravery and the joy you gave me AYA. I hope to see you all again very soon.